Please wait for 4 calendars to load.
Tour Availability
>
TOUR RATES
PREMIUM DELTA BOHEMIAN TOUR:
One person: $230
Two persons: $265
Three persons: $295
Four persons: $335

Includes all elements of the THREE-HOUR tour, plus up to 30-60 minutes of time to delve a little deeper.
THREE-HOUR DELTA BOHEMIAN TOUR:
One person: $195
Two persons: $225
Three persons: $255
Four persons: $285

A private, in-depth regional-identity tour in a comfortable, air-conditioned Jeep Wrangler.
ABBREVIATED DELTA BOHEMIAN TOUR:
One person: $130
Two persons: $150
Three persons: $170
Four persons: $190

Includes many elements of the THREE-HOUR tour, but without visits to some outlying areas, including the Mississippi River and the agriculturally historic countryside.



EXTENDED CUSTOM DELTA BOHEMIAN TOUR: (minimum 4 hours)
One person: $65 per hour
Two persons: $75 per hour
Three persons: $85 per hour
Four persons: $95 per hour

A customized, private, minimum four-hour tour to possibly include all elements of the PREMIUM tour, plus farther reaching iconic Mississippi Delta spots of historical and personal significance.
After reviewing our Rates (see above), submit your tour request using the corresponding calendar. Tours are available on the red dates.
If you do not see a confirmation email reply, please check your spam or junk folder.
For those who experience any difficulty submitting a request, please email Billy directly at chillybilly@deltabohemian.com or call and leave him a message at 662-701-5020. He will reply to you soon.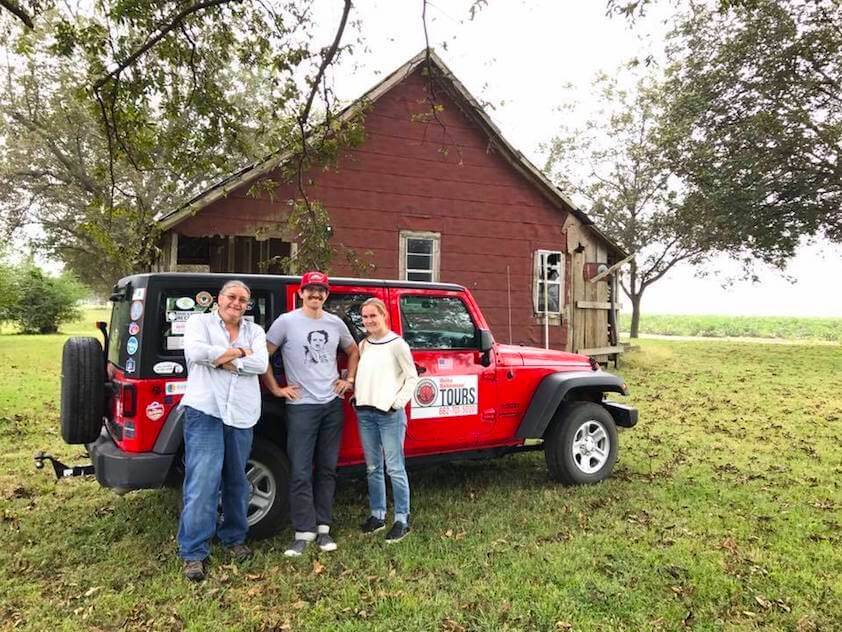 Jeep Wrangler Driving Tour

Larger Group Rates
Billy is open to bus groups or using optional vehicles for his tours to accommodate more passengers. Just ask.

Festival and Holiday Rates
Billy limits the number of daily tours he gives during festivals and holidays, so book early.

Increased hourly rates apply during festivals and holidays. ​

Discounts and Combining Tours
Discounts are not available. Please do not ask for one.

All tours are private. We do not combine separate groups and/or individuals.

Hours of Operation
Tours are given seven days a week.

BOOK EARLY